December 11: Soup & sandwich lunch followed by the AGM - $5.00
December 14: Christmas Buffet Dinner, catered by David Bowes. (See below)
December 20: Seniors Together - Rec Centre. (See below)

VOLUNTEERS: are an integral part of keeping the centre operating and keeping costs down.

We are looking for a lunch and dinner convener plus kitchen staff and a dinner cook.
If you know anyone willing to take on one of these positions please contact
Jolaine at 485-3813 or jolainewright@hotmail.com for more information.
MEMBERSHIP DUES:
If you are a current member and renewing for 2019, the fee will be $20.00 up until December 31, 2018.
We will be collecting dues starting at the November 13th general meeting.
A reminder that the AGM will be held after the December 11th lunch.
Elections will be held to fill the positions of
President
Vice-President
Secretary
Treasurer
and five Members at Large

If you are interested in standing for any of these positions, please call the Nominating chair, Lenore, at 604 485-7971

NOTICE OF MOTION:
A motion will be made at the December AGM to amend the previously adopted motion.
"Membership dues for the year from January to December are $25.00
and any current member may renew their dues for $20.00 for the following year.
Dues payable for new members are $10.00 from July 1st - December 31".....

by striking out $25.00 and adding $30.00, and
by striking out $20.00 and adding $25.00, and
by striking out $10.00 and adding $15.00,
-- to take effect January 1st, 2019.
Christmas Dinner at the Seniors Centre - Friday Dec. 14th
The Christmas dinner will be a buffet - Catering by David Bowes
Tickets will be available at November lunch and the November dinner
or by contacting Gene 604 485-5894

The tickets for this dinner sell out quickly so get your tickets early!!!

Seniors' Together Powell River - Thursday December 20th at the Recreation Complex
A monthly social time for Seniors including a free lunch and activities.
This takes place at the Recreation Centre on the 3rd Thursday of the month
from 11:30 am to 1:30 pm
All seniors are welcome. Phone the Complex at 485-2891 to reserve.
Senior Citizen's 50/50 raffle winner.
The winner of the 50/50 draw was Calvin Harry.
The photo shows Calvin receiving the cheque for $5,000
from President Anna Maria Coletto.
Thanks go to the volunteers who sold tickets and to those who purchased tickets.
Your current 2018 Executive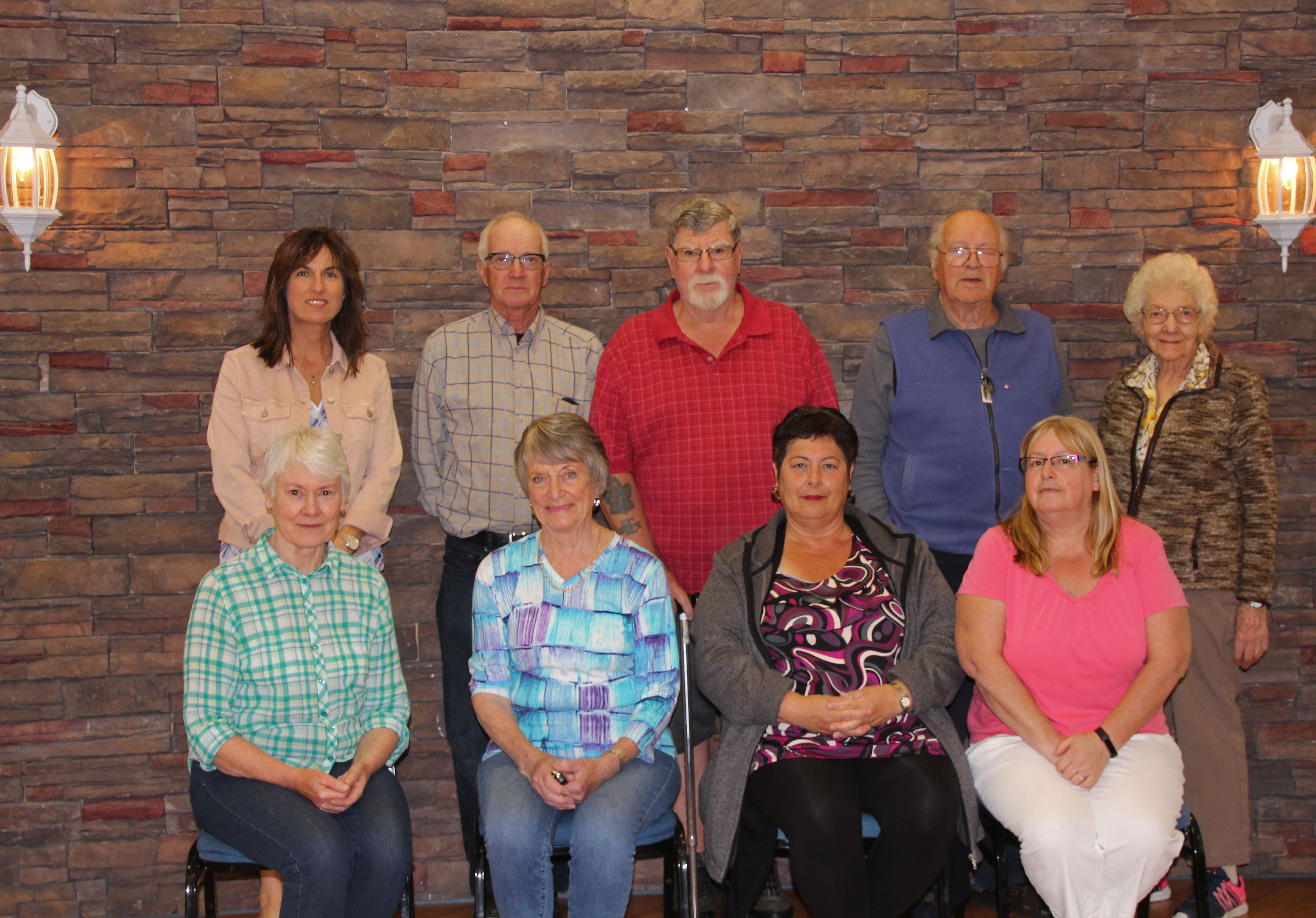 Back row: Christine Behan, George Davidson, John Harris, Rick Bradley, Laura Foster
Front row: Jolaine Wright, Gene Jamieson, Anna Maria Coletto, Rhondda Schreurs
2018 Executive
President: Anna Maria Coletto
Vice-President: Rhondda Schreurs
Secretary:
Treasurer: Gene Jamieson
Executive members: Rick Bradley, Christine Behan, George Davidson, Laura Foster, John Harris, & Jolaine Wright